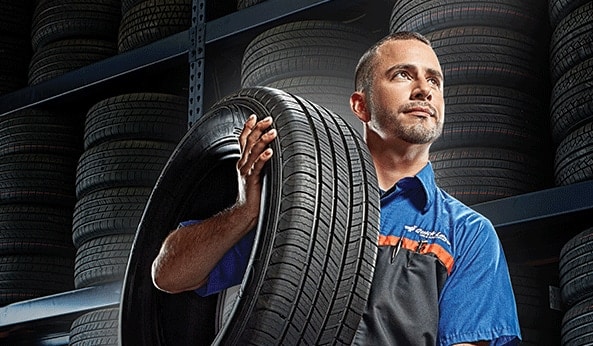 Tire Care Services
Your tires are as important to us as we are to you. So our respective service departments at all of our convenient AutoFair New Hampshire locations in Haverhill, Manchester, Plaistow or Nashua, or our locations in Chelmsford or Stratham Massachusetts are staffed with only certified tire technicians. When you come to us for a tire rotation, we'll make sure we check the tire treads and pressure of each tire and let you know if any tire needs to be replaced. If your front tires are wearing unevenly, we'll check the brakes and suspension during your tire rotation and let you know if you need a brake inspection or an alignment.   
If you want to save money and attempt to patch a tire yourself be aware that if the puncture is too close to the outer or inner edge you won't be able repair the puncture and stop the tire from leaking. 
Using fix a flat or riding around on a temporary spare forever you'll only be hurting your own suspension and if you care about your gas mileage you'll drop by one of our service departments at AutoFair to get that tire repaired. Plus riding around on a doughnut for too long will cause your other tires to wear unevenly. Come into AutoFair and let our professionally trained tire technicians repair or replace your flat. We'll do the job right and if we can't fix the tire we'll get you the right replacement tires at our guaranteed low price. If your front tires are worn unevenly we'll let you know if you need an alignment. When we preform your tire rotation if we notice the level of wear on all your tire treads is too excessive we'll make sure to check the brakes too. If your tire treads are worn too much that can cause you to break harder more often and the brake pads to wear excessively too. Of course we won't perform any maintenance without your authorization and we'll always let you know the cost before any work is done and we'll always try to get you the guaranteed lowest price available. 
When you come for a tire rotation at any of our AutoFair locations of course we'll document all the maintenance performed and make sure you get scheduled for regular rotations too. You should always be proactive about checking the general condition of your own tires though, especially if you use your vehicle for long commutes on a regular basis try to remember tires typically should be rotated every 6,000 - 8,000 miles depending on the manufacturer's specs and how many miles you travel on average every six months. It might be necessary to bring your car in for a rotation or front end alignment before the actual scheduled date. If your alignment is off it will cause your tires to wear excessively of course which can adversely affect fuel efficiency and that can really add up if you do use your vehicle for long commutes. Here at AutoFair, we understand your tires are not only important to your vehicle's performance and that properly inflated tires with good treads help maintain safe driving conditions for you and yours that's always important to us too. We want you to get the best value from your vehicle by providing service that keeps your car running efficiently, safely and for the longest time possible ultimately saving you money. Your safety and satisfaction are our main goals. After all, your service is our service at AutoFair!