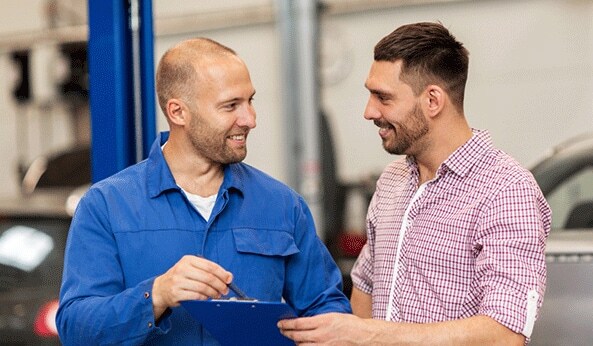 About Our Service Departments
Just about everyone knows that purchasing a vehicle is one of the most important investment you could possibly make. So why would you go anywhere else to help you make that very important decision other than your local AutoFair dealership? 
Once you've made the right decision to invest with us we'll help you take care of your investment. No matter what the make or model of vehicle you decided on, our highly trained certified technicians and mechanics have the skills and experience to make good on that investment. 
If you worry about overall performance and safety, but your budget is your main concern you'd do yourself a favor taking your car back to our service department at any one of our conveniently located AutoFair dealerships around Massachusetts and New Hampshire. Our certified mechanics are experts at getting the best performance out of your vehicle and extending its life without breaking your bank account. We realize preventative maintenance is the key to keeping your vehicle on the road in safe driving condition which subsequently will help you avoid mechanical failures and costly repairs while improving fuel efficiency. All of which of course, ultimately saves you money. We document all vehicle maintenance for your records so when you're ready to trade in anyone can see in detail the type of care that went into maintaining your vehicle. 
Whether it's a simple battery check or a complicated suspension or engine repair our fast, friendly and thorough technicians and mechanics will always do things right by you at AutoFair. If it's a tire rotation or an alignment, we'll make sure the tire pressures are what they should be and while your rotation or alignment is being performed we'll check the general condition of the brakes and suspension, too. If it's a battery check or an oil change we'll make sure we check the belts and hoses also. If you need a tune up, we'll schedule one at your convenience. We only use the manufacturer's recommended parts, fluids and lubricants for your vehicle. If we find anything that needs to be repaired we'll always let you know before performing any additional maintenance. We won't do any work without your authorization and because we know your time and money are important to you, we'll always strive to get you in and out as quickly as possible while giving you our guaranteed lowest price. 
With that kind of attention to detail from our respective service departments at any one of our convenient New Hampshire locations in Haverhill, Manchester, Plaistow or Nashua, or our locations in Chelmsford or Stratham Massachusetts we are more than confidant we'll be seeing you again and again. In fact, we hope you make us your go to place for all your car care needs no matter what the make or model of your vehicle happens to be. Why you ask? What's our motivation? Well, when we're through helping you get the most from that investment while you experience the level of service we provide who knows, you just might decide to reinvest that trade in with us. Now isn't that enough motivation? After all if you think about it, your service really is our service at AutoFair.