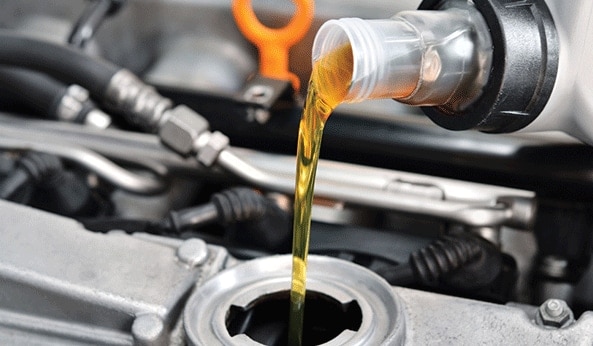 Oil Change Services
Even if you don't know too much about engines you're probably aware that your car's engine has moving parts and those parts need lubrication to keep them protected against friction and heat which can cause wear and lead to mechanical failure when those parts break down. That's why it's necessary to be proactive about regularly scheduling periodic oil changes at any of the convenient AutoFair New Hampshire locations at Haverhill, Manchester, Plaistow or Nashua, or our locations in Chelmsford or Stratham Massachusetts. Our highly trained and certified technicians and mechanics always use the proper weight of recommended and manufacturer approved synthetic blend oils for whatever the make or model vehicle you own.
At every AutoFair location, our respective service departments use a synthetic blend oil because it it's more resistant to viscosity break down which is key to protecting the moving parts in your engine longer. While we perform your oil change we'll check the condition of your belts and hoses too. We'll also check your other fluid levels, the general condition of your battery and even the general condition of your tires as well. We won't release your vehicle to you until we've checked the tire pressures and made sure all your tires are properly inflated with the recommended pressure. 
We'll let you know if it's time for a tune up and schedule you for one at your convenience.  We do all this because preventive maintenance will not only improve your vehicle's performance, but it will also keep your car on the road longer in safe driving condition. Of course all of this will save you money too. We won't perform any additional maintenance without your authorization and we'll always give you a fair estimate before we start any work while giving you our guaranteed lowest price. 
At any AutoFair service location, you'll find our level of service a little more than just accommodating. We stand behind the work we do and our experienced and certified technicians and mechanics are willing to put in the extra effort when it comes to our customers. We'll keep on top of scheduling you for necessary periodic oil changes.  We always document all of the maintenance performed on your vehicle for your records so you can get the most value for your trade in. We're devoted to providing the best service possible and that's what makes us sure you'll be coming back for all your car care needs no matter what type of vehicle you own. We want to be your go to automobile service center. Why? Well when you're to trade in your vehicle we're hoping you trade in with us and because your satisfaction is simply our main goal. Your service is our service at AutoFair.