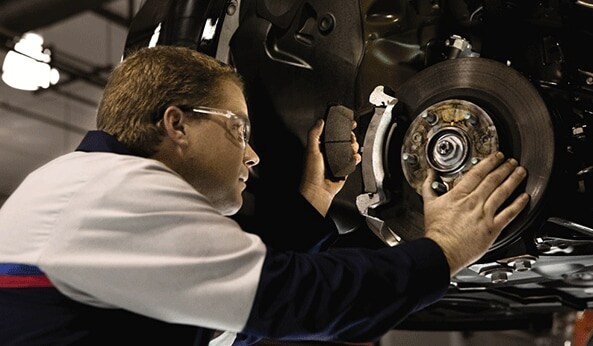 Brake Care 

Your brakes are some of the most important parts of your vehicle, they're also some of the hardest working parts in your vehicle. Which means they'll eventually wear down. 
When they do, we don't think you should trust your brakes to anywhere else except our respective service departments at any of our convenient New Hampshire locations in Haverhill, Manchester, Plaistow or Nashua, or our locations in Chelmsford or Stratham Massachusetts. If you hear a squeal or feel the violent shudder in the front end as you apply the brake pedal is definitely not a good idea. Your brakes may save your life one day so why trust them to anyone else except our certified AutoFair brake technicians for your brake inspection.
Proper brake inspections are important in maintaining your brakes. You may want to take a look at your tires the presence of excessive brake dust on your wheel rims usually means you're braking to hard. It's probably because your tires aren't providing the proper traction. Poor tire traction will not give your brakes the assist they need in bringing your vehicle to a full stop as quickly as possible. Proper traction from your tires can also help you improve your mileage. That telltale squeal you hear means the brake pads have worn away to the brake shoe which is now metal to metal with your brake rotors it's not only unsafe, but usually a very costly repair. 
Some other things that may warn you of the need for brake maintenance are, if you have to depress your brake pedal farther than usual, or your brake pedal is lacking resistance that used to be there when you push down on it, or low tire pressure. If the brake pedal doesn't feel right when you depress it you might have something wrong with your brake system of your vehicle causing your brakes to lose pressure. Air in your brake lines, or a slow leak at the brake caliper, a faulty brake caliper or the master cylinder itself may need to be replaced. Have you had to add brake fluid recently? These are signs it's time for a brake inspection to avoid any serious problems with your brakes and at AutoFair, our certified brake technicians take their job seriously. Regardless of whatever make or model vehicle you own we have the experience and expertise to handle your brake maintenance in thoroughly and quickly.
We only use recommended and manufacturer approved parts and brake fluid to keep your braking system operating optimally because at AutoFair, our expertly trained and certified brake technicians realize using the recommended parts and fluids will ultimately extend the life of your brakes. If you're worried about your brakes, don't wait schedule a brake inspection with us today for your own safety. We'll make sure you're in and out as a fast as possible and we'll give you our guaranteed lowest price. Your service is our service at AutoFair.