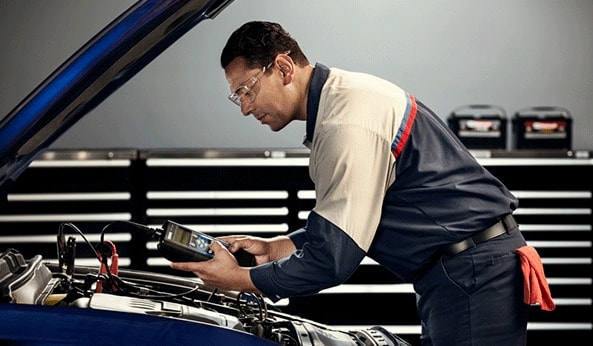 Battery Care Services
If you're taking a long trip during the hotter summer months possibly down south, let us run a battery check at any one of our convenient AutoFair New Hampshire locations in Haverhill, Manchester, Plaistow or Nashua, or our locations in Chelmsford or Stratham Massachusetts.  
Our services departments will make sure we take care of your battery properly.Heat can significantly reduce your battery's life span. If your vehicle has a traditional battery, it's a good idea to check the level of the water in the cells of your battery at least once a month, more often in the hotter summer months or in warmer climates of course. Before leaving on a trip you should check the tension of your alternator belt, make sure you battery leads are making proper contact, (take care not to over tighten the leads,  slightly more than hand tight is good enough) and make sure the terminal posts of your battery are clean and free of any acidic residue that is very corrosive. 
Anywhere that constantly exposes your vehicle's battery to higher temperatures can reduce the average life span of your battery to about four years, bear in mind your battery is more likely to fail in the summer months. A battery that's constantly exposed to milder temperatures should last about six years. Extreme heat will significantly reduce the life of your battery. In the more temperate state of New Hampshire or even Massachusetts your battery should last for just about as long as the expiration date indicates on the battery. If you're planning any long trips through warmer places like down south over the summer, it's best practice to get your battery checked and make sure your alternator is properly charging it. A degraded or bad battery will no longer hold or receive a significant enough charge even from a properly operating alternator. Whether it's just a loose or worn belt or something more expensive like an alternator replacement our respective service departments at AutoFair have the right parts and expertise to take care of you regardless of the make or model of your vehicle. 
Most people don't worry about their battery as long as their car starts without a hitch and they're able to just go. It really doesn't seem important when you're close to home, but if you're like most people you'd rather not get stuck on the highway somewhere in another state maybe in August depending on the kindness of strangers and the nearest auto repair shop or auto parts store which is most likely going to over charge for a generic battery. At AutoFair, we use only approved and recommended manufacturer's parts and fluids to keep your vehicle running smoothly. We'll make sure you're ready for your trip. Our highly certified technicians will ensure you have a working battery and get you in and out in our typically fast and friendly manner because we know you have better things to do. Come see us before you go on your trip. Let's make sure you make it there and back without mishap. It's our job to make sure your car is working right before you leave so it gets you there and back in one piece. Your service is our service at AutoFair.