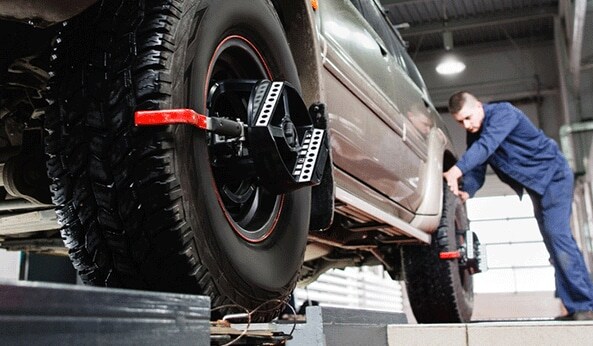 Wheel Alignment Services
Our respective service departments at any one of our convenient AutoFair New Hampshire locations in Haverhill, Manchester, Plaistow or Nashua, or our locations in Chelmsford or Stratham Massachusetts know that extending the life of your tires not only relies on regularly scheduled rotations and proper tire pressure, but checking your vehicle's alignment too. The proper alignment of your car will extend not only the life of your tires, but parts of the suspension as well. That's why it's a good idea to bring your car in for an alignment if you feel that your steering pull to the right or left while you're driving.  
A faulty alignment can eventually lead to more expensive repairs with your suspension and you'll most likely have to replace your tires earlier. The costs associated with a faulty alignment at AutoFair and we encourage you to schedule yourself for an alignment at any of our locations. Our respective service departments are always staffed with expertly trained and certified technicians and mechanics who will only use approved and recommended parts and fluids to keep your car on the right road to efficiency and safe driving condition. Regardless of the make or model vehicle you own we can help you with your alignment or any of your other car care needs as well. Our service department staff is not only knowledgeable, but friendly and fast too. We realize you want the job done right, but we also know your time is important to you too. If we see other work needs to be done we'll let you know about it and we'll let you know about the cost before we do anything. We won't perform any extra work without your authorization. We'll have you in and out and schedule you for any additional repairs before you leave at your convenience. 
Your vehicle's safety and efficiency are as important to us at AutoFair as they are to you. That's why we'll check fluid levels, general condition of brakes, and suspension and even the pressure in your tires alerting you to any undue wear on the treads while we preform your alignment. We fully document any maintenance we perform on your vehicle for your own records so you can get the best resale value for your car. We think you'll be more than presently surprised at the level of service you receive from us after all your service is our service at AutoFair.