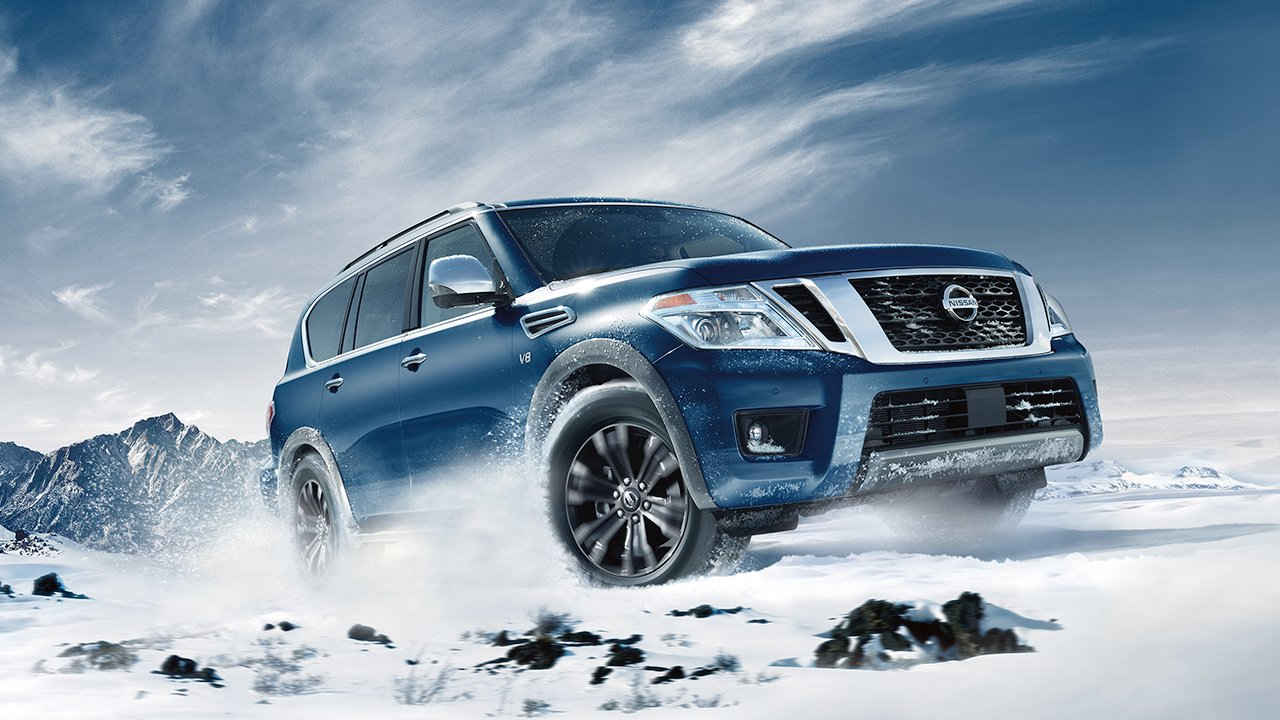 Recently released, the all-new, completely-redesigned 2017 Nissan Armada is one of Nissan's most intriguing SUV's in recent history.
Sporting a new facelift and redesign the new Armada is a treat to look at- it's sleek, sexy, and menacing.
Nissan did not cheap out with the new features on the Armada. Not only does it look great, the Armada is practical as well. Plenty of room to fit passengers or cargo, a powerful V8 engine, and new safety tech that make this SUV one of the safest on the market- the Armada has it all.
View 2017 Nissan Armada Inventory
The 2017 Armada was given a facelift and starting working out. Its new design is not only rugged and menacing it's sophisticated and smart as well. Not only did the exterior get an update, the inside is gorgeous as well.
This beast will most definitely turn heads as you roll by- the distinctive grille and brilliant LED headlights give off a loud and muscular vibe. As it cruises by, most will notice the large and in charge 20-inch wheels and sleek chrome accents up and down the length of the vehicle. These uniquely finished wheels and accents really cap off the entire aesthetic of the Armada, looking mean yet sophisticated at the same time.
The Armada will look right at home riding up to camp for the weekend or taking it into the big city for a show. The interior is absolutely beautiful, sporting navigation, 13-speaker Bose audio system, an advanced heating/cooling system, and rearview backup camera- all standard.
If you are feeling fancy take a step up to the SL trim level which includes leather seats, fog lamps, remote start, 7inch rear entertainment screens, and the 20-inch machined wheels. The craftsman ship on the Armada really shows for 2017, on the outside and in.
View 2017 Nissan Armada Inventory
Class-Exclusive Safety Technology
Nothing is more important than feeling safe on the road. Whether it's the road conditions and the responsiveness of your vehicle, or having top of the line safety tech the Armada is arguably the most advanced on the market when it comes to safety features. 
Sporting class exclusive available safety features such as predictive forward collision warning, blind spot intervention, backup collision intervention and around view monitor with moving object detection it's safe to say you will be in good hands behind the wheel of the 2017 Nissan Armada.
When Mother Nature rears her ugly head in the tough New England winter, standard 4WD in the Armada will help keep you on the road and in control. Blind spot warning and intervention warns when a vehicle is detected in your blind spot, keeping you aware of your situation with ease. Mix in Predictive Forward Collision Warning and Around View Monitor with Moving Object Detection and you'll almost always be ready when danger is close, keeping you and your family safe.
Never worry about dings and dents while navigating parking lots again. Front and Rear Sonar Parking system uses sensors on all four corners of the Armada that can detect static objects and warning you, ensuring you don't bump into that poorly parked truck we all know and love.
The 2017 Armada will tackle any adventure you throw at. Whether it's packing up for the families annual camping trip, or getting the boys to hockey practice, the Armada's spacious cabin will handle it all, while keeping everyone comfortable. Now based on the Patrol SUV platform, the Armada has grown a few inches in length and width, creating even more space for cargo and passengers. 
Need to fit a few more people or need more space for cargo? The easily adaptable interior allows you to easily accommodate for more passengers or more space on the fly.
There's room for the whole family…and friends, now with available seating for 8 and best in class 2nd row head and legroom everyone can be comfortable and not dread sitting in the way back. More gear to haul around than people? The flexible interior has 60/40 split rear seats the can go all the way flat for more space to haul just about anything,
Hauling the boat up to the lake for the weekend? With over 8,500 pounds of towing capacity the Armada will handle it with ease. Also sporting 394 lb-ft of torque and a whopping 390 horses the Armada will have no problem hauling any cargo or the entire family- all while providing a smooth and quiet ride

If you are looking for a great looking SUV that can handle everything from hauling your boat to tackling off-road adventures with your family, all while having some of the most advanced safety features to date- the Armada is for you. While it's not quite available yet, you can be sure AutoFair Nissan will have the Armada in stock right it's available.
AutoFair Nissan has knowledgeable and friendly staff that doesn't use high-pressure sales tactics to get you in a vehicle that's not right for you. 
Click the link below to see our current Armada inventory and to stay updated on when the new 2017 Armada will hit stores. We can't wait to help get you in the perfect Armada for you and your family!
View 2017 Nissan Armada Inventory