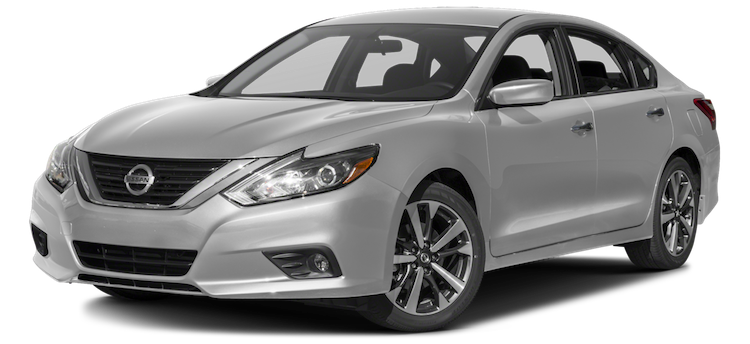 The Nissan Altima has been numerous things over the years. It began as a compact car, evolved into a family sedan with athletic handling, great styling, and above-average fuel economy. In the process, it became one of the best-selling cars in its class and for 2017, Nissan gave it the same exterior makeover seen on other vehicles, such as the Maxima and Murano.
Dramatic, curvy styling gives the 2017 Nissan Altima a more premium look and feel compared to other mid-size sedans on the market. The Altima has fully evolved into a trend-setting four-door sedan that now not only looks amazing, but drives it as well.
View 2017 Nissan Altima Inventory
Refreshed Exterior Design
Looks like nothing else in its class right? Looks like a vehicle that you may expect to come with a much higher price tag, but yet it doesn't. Those chiseled curves and muscular lines throughout aren't just for show. They help reduce drag, allowing the Altima to slip through the air with more ease and less resistance than ever.
Many cues of this modern redesign come from its older brother--the all-new Maxima--such as the boomerang inspired LED optional headlights and the redesigned grille. Form follows function though, as the Altima has optional Active Grille Shutters* that automatically close at highway speeds to decrease wind resistance and boost efficiency.
This same form is carried to the rear of the vehicle where the Altima wears taillights that are brilliant not only for their integrated design, but also for their incredible visibility.
This four-door sedan delivers small-car fuel efficiency without sacrificing performance. Behind the wheel is the perfect place to watch Altima's V6 engine unleash its maximum 270 horsepower, then overtake and outperform the competition.
Choose the 182 horsepower 4-cylinder engine and you'll get more than just spirited performance. Innovative engineering gives you smooth power while returning an impressive 39 MPG Highway**.
Think the Altima looks and drives amazing but want to turn the volume up to 11? Functional front and rear design lines and powerful styling lower the vehicle's profile, while chrome accents enhance Altima's bold new attitude. Subtle changes to the headlights include Smoked housings, distinctive LED arch, and LED headlights.
Inside you will find steering-wheel mounted paddle shifters with manual transmission mode for those times when you want to grab the Altima by the scruff. A Nissan first, the SR is equipped with Active Understeer Control to help give you a controlled and comfortable ride when you take a corner. All of this mated to a bespoke suspension with larger front and rear stabilizer bars, revised damper tuning, and wider tires for sportier handling.
This is as aggressive as the Altima gets, so welcome to the Altima SR!

We think everyone can agree that the all-new Altima looks and plays the party of an edgy and forward thinking vehicle. It's newly styled exterior and interior are sure to compliment any driver. So when it comes time to pull the trigger, AutoFair Nissan has your back.
Compared to other Nissan dealers, AutoFair is the place to shop for the best selection, deals, and service to make car buying simple and ownership a breeze.
View 2017 Nissan Altima Inventory