AutoFair Named Best NH Automotive Group for 2012
---
New Hampshire Magazine Announces AutoFair Business Award for 2012
---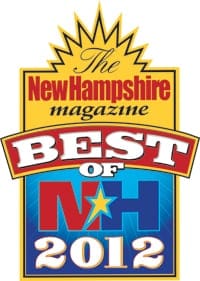 Manchester, NH- May 3, 2012 - AutoFair Automotive Group has been named 'Best Automotive Group' for 2012 by New Hampshire Magazine. The AutoFair team will be honored with other business winners June 21
st
at the Verizon Wireless Arena. The evening event is expected to draw 1,500 people and proceeds of the tickets will go to helping the New Hampshire Food Bank- a program of New Hampshire Catholic Charities.
"We are honored by this recognition," said Andy Crews, President and CEO of AutoFair Automotive Group. "Our entire team of employees and customers are the reason for this award and we are grateful for the role we play in New Hampshire and in our automotive industry."
AutoFair Automotive Group is headquartered in Manchester. The company employs 392 people and is comprised of; AutoFair Ford, AutoFair Hyundai, AutoFair Honda and the Manchester Collision Center. In the summer of 2011, AutoFair built and opened a Honda store in Plymouth, Massachusetts. The group recently announced the building of the new AutoFair Nissan store of Stratham- the 25,355 square-foot facility is currently under construction with a completion date scheduled for early fall 2012. The new AutoFair Nissan store will employ up to 50 employees. The state-of-the-art building will feature the same Green 'ENERGY STAR' standards and practices AutoFair's Green Committee has employed since 2007 (
www.energystar.org
) in all of the company's locations. AutoFair has been recognized nationally for its Green Energy practices which include LED lighting, building materials, heating and cooling efficiencies and Green cleaning products- all of which help reduce the environmental impact of the operation.
---






THE CHILDREN'S HOSPITAL AT DARTMOUTH-HITCHCOCK ANNOUNCES AUTOFAIR AS RETURNING PRESENTING SPONSOR FOR THE 5TH ANNUAL CHaD BATTLE OF THE BADGES HOCKEY CHAMPIONSHIP
LEBANON, NH?(February 20, 2012) The Children's Hospital at Dartmouth-Hitchcock (CHaD) is pleased to announce that longtime supporter AutoFair has committed to being the Presenting Sponsor for the 2012 CHaD Battle of the Badges Hockey Championship. An estimated 6,000 CHaD badge fans will arrive donning their red and blue on Saturday, March 31, 2012 at the Verizon Wireless Arena in Manchester to witness which team will end the 2-2 series tie?will it be Team Police or Team Fire?
Autofair, owner of Honda, Ford and Hyundai dealerships in Manchester will arrive in style to this year's Battle of the Badges Hockey Championship, displaying new 2012 models to welcome arriving game day fans. "The Battle of the Badges has become a staple event in our community that raises awareness and funds for an organization that has made it its mission to treat and care for the children of this community, and for that we are honored to once again partner with CHaD," says Andy Crews, President & CEO of AutoFair.
This marks the second consecutive year that AutoFair has stepped up in support of CHaD Badges and this annual event, as well as committed to continuing its ongoing support of the organization's various programs and events such as Kristen's Gift Golf, the NH East West All-Star High School Football Game, Governor's Breakfast and Battle of the Badges Baseball Game. "We couldn't be more thankful of AutoFair's ongoing support of our organization and event," explained Elizabeth Clarke of CHaD Community Relations. "AutoFair has truly set the bar as not only a community business leader, but CHaD ambassador. For more information about CHaD Battle of the Badges or to purchase tickets visit
www.CHaDHockey.org
.
About CHaD
As New Hampshire's only full service, comprehensive children's hospital, The Children's Hospital at Dartmouth-Hitchcock (CHaD) is committed to providing outstanding compassionate care for children and their families. Their physician expertise provides primary, specialty, and tertiary care to the children of New Hampshire, Vermont, and beyond, as northern New England's children's hospital. For patients living in southern and coastal New Hampshire, CHaD offers a comprehensive range of pediatric medical and surgical outpatient specialty services at Dartmouth-Hitchcock Manchester and at Wentworth-Douglas Hospital, Dover.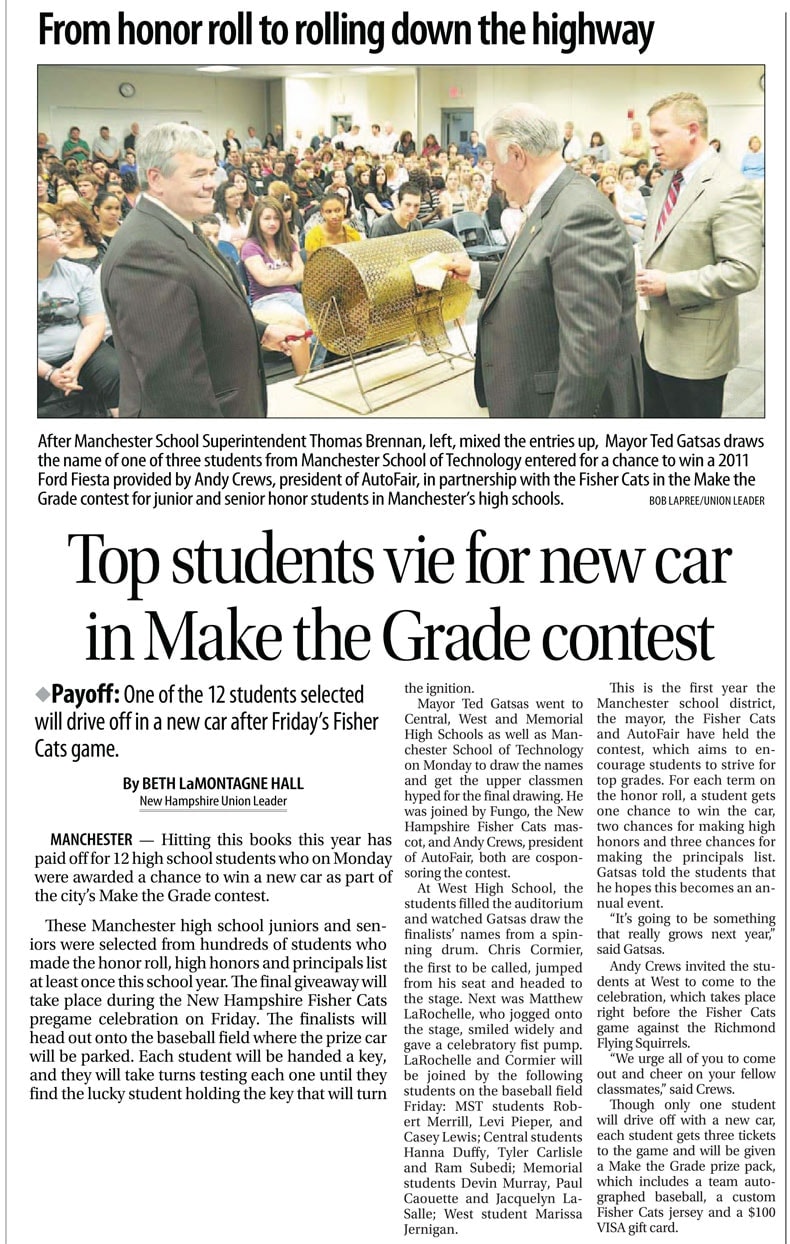 AutoFair breaks new ground in Plymouth Mass!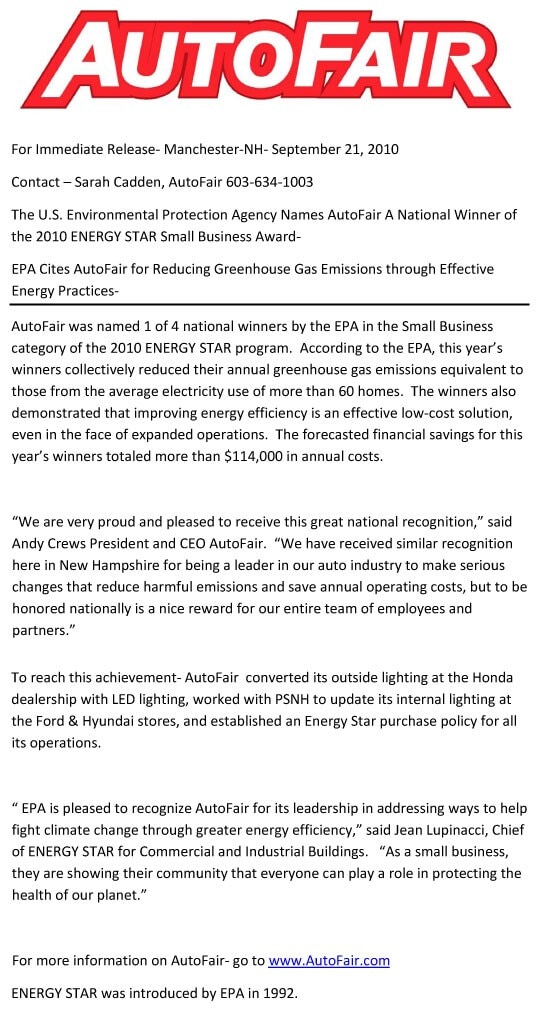 Relay For Life
· Relay began in 1985 when Dr. Gordy Klatt, a colorectal surgeon in Tacoma, Washington, ran and walked around a track for 24 hours to raise money for the American Cancer Society. Since then, Relay has grown from a single man's passion to fight cancer into the world's largest movement to end the disease. Each year, more than 3.5 million people in 5,000 communities in the United States, along with additional communities in 19 other countries, gather to take part in this global phenomenon and raise much-needed funds and awareness to save lives from cancer. Thanks to Relay participants, we are creating a world with more birthdays a world where cancer can't claim another year of anyone's life
· This is AutoFair's second year participating in the event that was held Friday and Saturday June 4th & 5th in Livingston Park in Manchester
o This year each dealership had their own team and they competed against each other to raise the most money. Currently Autofair has raised over $16,000 and is still working to raise more
· Andy Crews President/CEO and his family have been participating in this event for the past 8 years